Sick S300 Mini Safety laser scanner
| | |
| --- | --- |
| | The sick s300 safety scanner is used to secure the working area of the robot. This device ensures that the robot will stop if a person or object enters the working area. This document applies when troubleshooting the system in case it does not work properly. |
| | |
| --- | --- |
| | To be used by trained and authorized personnel only. |
---
| | | |
| --- | --- | --- |
| Sick s300 | | |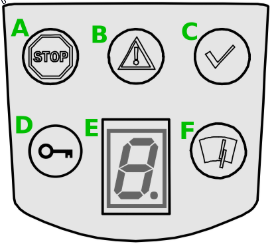 A) Stop zone is activated. Someone or something is present in the highest safety zone. Robot will stop!
B) Warning Field is activated. Someone or something is present in the warning zone. Robot will slow down till a safe speed!
C) Zone is clear, no zone is activated. Robot will run at the speed that is set by the software.
D) Configuration fault , device has to be newly configured.
E) 7-segment led display will give an error code by failure, to make first diagnostics.
F) Optics cover of the scanner is contaminated.When indication is BLINKING : Optics cover contaminated, but still in operation. The optics cover needs to be cleaned.When indication is ON : Optics cover contaminated, no operation possible as the sensor can not guarantee that the zone is free. T he optics cover needs to be cleaned.
When Optic is clean and there is no configuration fault.Device is working fine. Check if the zone is free.
When Optics cover is contaminated , clean the plastic inclined lens.
Use a clean and soft brush or cloth to remove dust from the optics cover.

Moisten the SICK optics cloth with the anti-static plastic cleaner and wipe off the window for light output on the optics cover with the cloth.

Do not use aggressive or abrasive cleaning agents.
When Warning Field is activated.Clear obstacles so that the zone is free.
When Stop Zone is activatedClear obstacles so that the zone is free.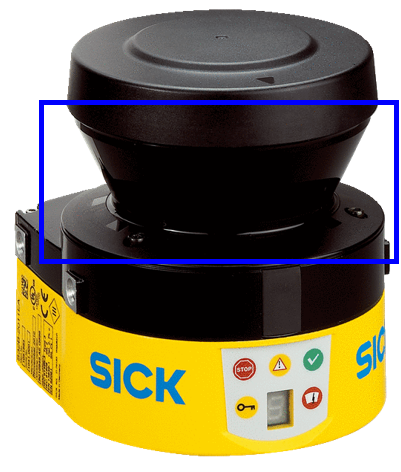 | | |
| --- | --- |
| | Note |
By opening the machine doors with a lot of coolant-mist, it's possible that the scanner react on that by slowing down or perhaps stop.
When the warning zone is active the robot will reduce the speed to a predefined safe speed (12%). This reduced speed can be seen on the right top of the teach pendant screen.
When first diagnosis is made with no solution in sight or there is a configuration fault. Contact RoboJob service if assistance is needed.
| | |
| --- | --- |
| | Manuals download |
Do not hesitate to contact us when you need additional support beyond the documents provided in the RoboJob Service Knowledge Base.
You may contact the RoboJob Service department using following means:
We kindly ask you to provide us the following information:
Serial number xx-xx-xxx

Description of the fault or defective part

Exact error code or message

What did the robot do

What was the robot supposed to do

Pictures or videos
You can send this information to us via email.To send large files you may make use of a file transfer service like WeTransfer: robojob.wetransfer.com.
An automatic confirmation will be sent upon receipt of your mail.